The opportunities of multi-contracting but the challenges it presents
13/03/23
We have recently seen a number of US developers making the decision to proactively pursue a multi-contracting route for the construction of offshore wind farms. This strategy has been driven by a desire for better visibility on both risk and costs than that offered by the more traditional option of single sourcing Engineering, Procurement, Construction and Installation (EPCI), which results in paying a premium for others to take on most of a project's risk.
While this multi-contracting approach has indeed delivered on its promise of better cost control and improved visibility of U.S. local content, interfaces and the different installation packages, it does also bring its own set of complications: the management of the interfaces and the associated risks creates a need to either insure or subcontract the various risks and packages to different parties.
The need to manage multiple contractors in turn requires a substantial team of experienced people who are fully-focused on the commercial and programme management of the interfaces, as well as the delivery of each scope (WTG, Cables, Foundations, OSS, Export Cable).  Assembling such a team, capable of executing projects of this size, will undoubtedly come with its challenges. This has never been more true than in this post-COVID era where many nations have substantial plans for large infrastructure developments and national improvements. Coupled with the re-emergence of Oil & Gas, as well as the sharp rise in the global adoption of Offshore wind, this means that experienced professionals are thin on the ground and the recruitment market is highly competitive.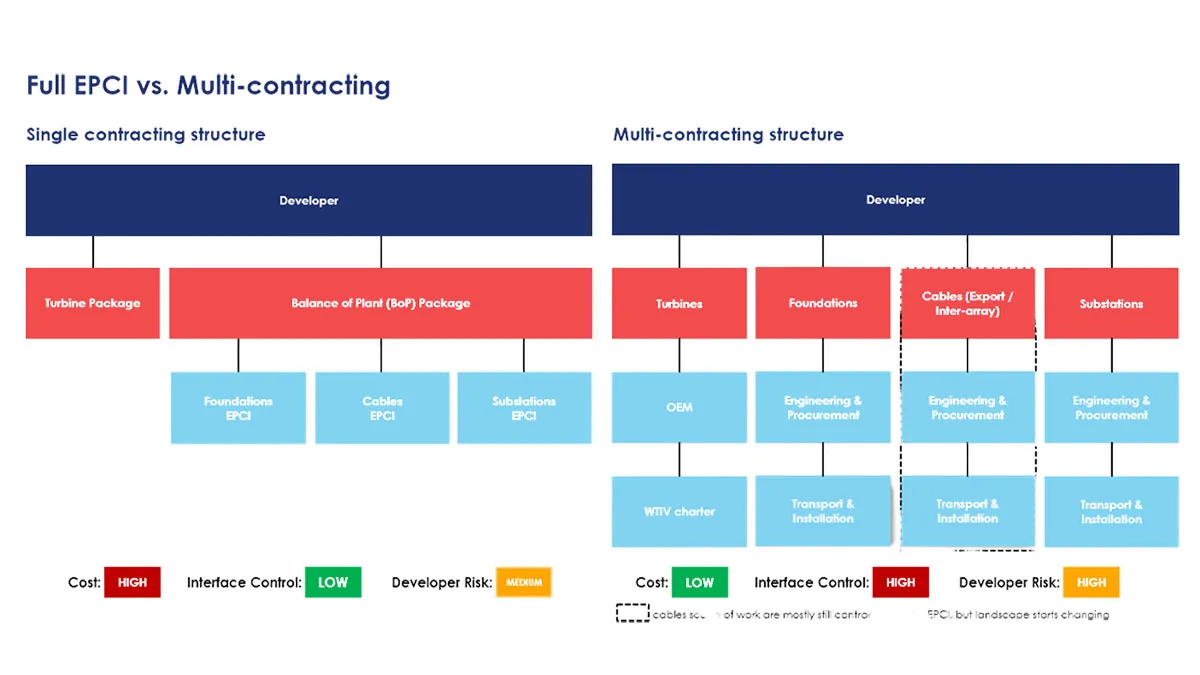 At Clarksons, our renewable energy consultants have the skills and expertise to help clients mitigate some of this risk. Our specialist Offshore wind teams are able to look at the logistics and interfaces of an individual project and manage it for maximum effectiveness and efficiency. We assume a global, outside perspective, looking in detail at the procurement and  transport and installation (T&I) phases of the different packages, either at an early stage or later in the project if it has already commenced. We believe these interfaces are critical to the successful delivery of a project as by identifying any risks early, we are better placed to help you manage these and so increase the probability of success as well as maximising cost-efficiency.
While it comes with its challenges, here at Clarksons we believe that multi-contracting is still a valuable strategy given it allows for greater visibility and cost control, especially when project economics have been eroded by increasing costs. Interested in finding out more?
Reach out to Clarksons' renewable energy consultants renewables@clarksons.com to discuss your T&I scope and find out how we can help.
Contact the Clarksons Renewables team